SPORTS MASSAGE FOR THE HORSE
What is Sports Massage Therapy?
"Equine Sports Massage is the therapeutic application of professional sports massage techniques applied to the horse" (Mary Bromiley MBE).
Sports Massage has been used successfully to alleviate a variety of physiological and behavioural problems with lasting effect. I use various techniques to improve muscle health, joint range of movement and to greatly enhance performance, fitness and injury prevention/recovery in both horse and rider.
I have a diploma in Equine Sports Massage and I'm an insured therapist with the Equine Sports Massage Association (ESMA), of which I am the vice chairman.
ESMA members are the only musculoskeletal therapists to be trained by a Fellow of the Chartered Society of Physiotherapist.
What to expect
Prior to the initial appointment, I will gain veterinary consent (The Veterinary Act). After which, I will take a detailed history, make a static and dynamic assessment, massage and use relevant exercises and stretches. The session concludes with advice and an exercise regime, where necessary.
The Benefits of Equine Sports Massage
Over 60% of the horse's bodyweight is muscle mass. Injury to any muscle, however small, can take up to 90 days to become apparent (by a change in attitude, reduced performance and lameness), by which time other structures will be affected and compromised. If untreated, the injury will ultimately impact on performance and soundness.
I use a variety of massage and stretching techniques to help relax, relieve symptoms of pain and enhance circulation (venous return).
The benefits include:
Stimulating and warming muscles and awakening the metabolic machinery prior to competition & exercise
Improving muscle tone, suppleness and range of movement
Assisting recovery post exercise and competition
Speeding up the removal of toxins
Reducing or preventing tissue adhesion following injury
Reducing the effects of over training by relieving muscle soreness
Inducing relaxation
Improving temperament / disposition
Benefiting the seriously injured horse in the rehabilitation process by aiding recovery and preventing muscle atrophy (wasting)
"Mary has worked with our horses for a few years now. We show, carriage drive and compete at advanced dressage level. It is impressive in itself that Mary is able to understand the different disciplines and apply this when treating our horses. Mary is always professional and always leaves me with understandable homework! I can not recommend Mary enough!"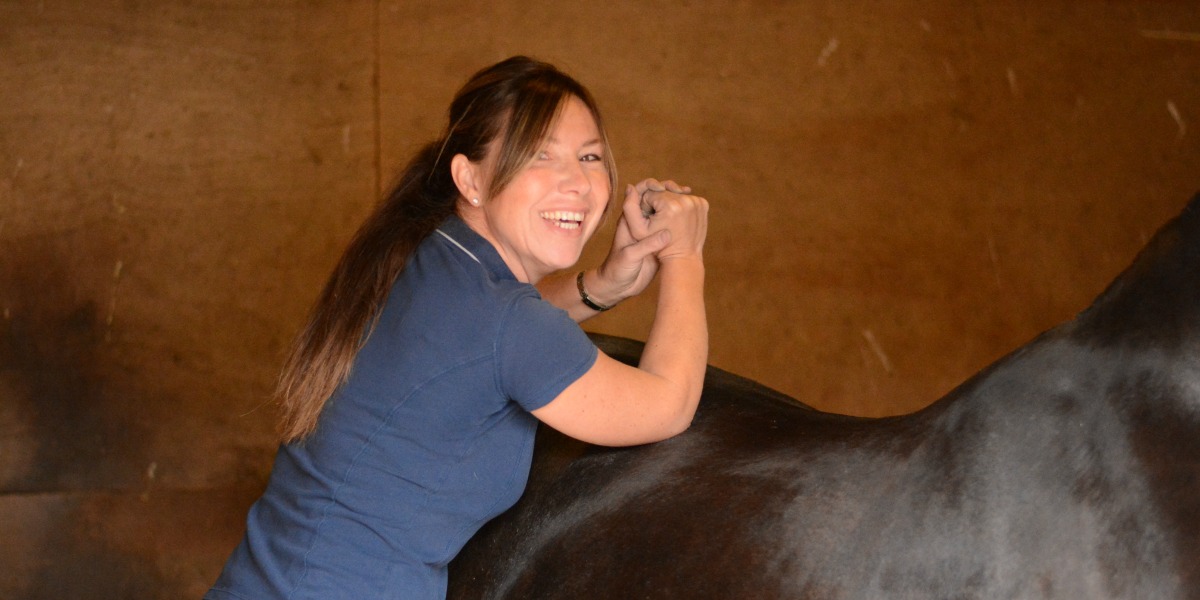 I use a variety of soft tissue techniques and exercises to promote and assist the recovery of my client's horses.
Stretching: Passive and active stretches are used to elasticise muscles and increase the range of movement.
Pole work: Improves posture, stretch, proprioception and weight bearing ability.
I also uses a variety of un-mounted ground-work exercises (tuition and training) and slow motion footage to analyse gait anomalies and lameness.