CLASSICAL RIDING INSTRUCTOR & TRAINER
I strongly believe, regardless of whether we are schooling, jumping, hacking or riding cross-country, that we owe it to our horse to be the best passenger possible. Classical Riding encompasses a respectful training methodology that has stood the test of time and focuses on co-operation rather than coercion.
At the forefront of classical equitation is the correctness of a deep and feeling seat and engaged rider core. Novice or advanced, I place the emphasis on the rider's ability to communicate and master the intricacies of the seat bones, pubic arch, thighs and abdominal muscles. I believe that rider asymmetry and poor posture inhibits self-carriage of the horse.
Without the need for gadgets, I train and build on the horse's natural responses and behaviours. I use appropriate gymnastic training, in-hand exercises and lunge/long-rein work to develop the horse's symmetry, physical strength and mental well-being, thus ensuring an improved horse and rider partnership that is based on correct communication, harmony and trust.
"To be an aid, the seat or weight effect of the rider must not only be correct; it has to occur at the right moment."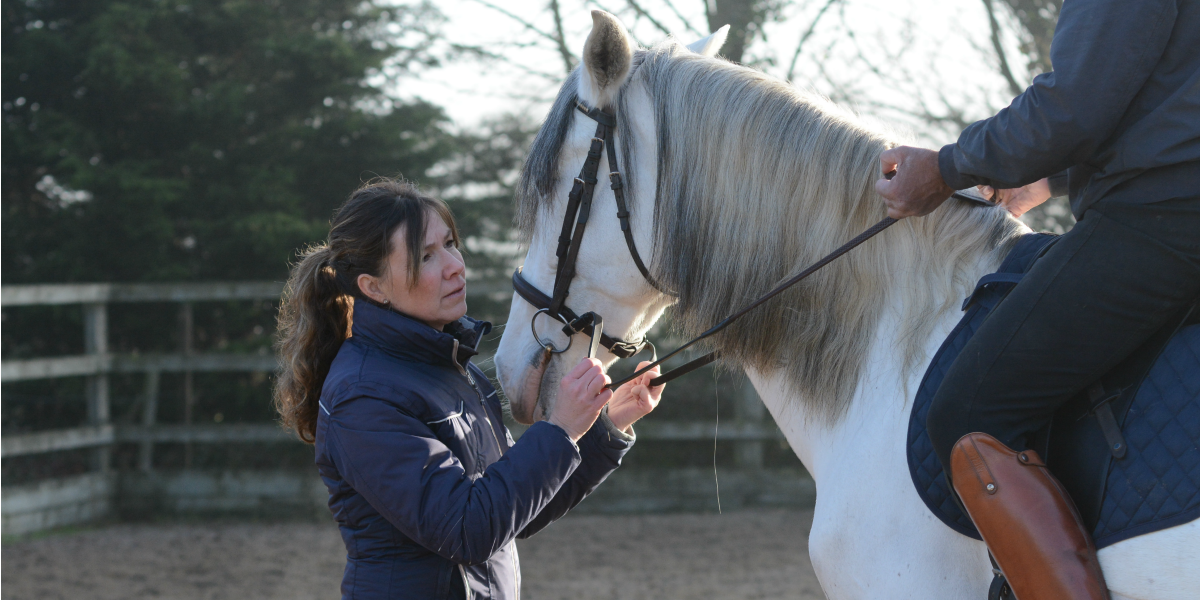 I use a variety of gymnastic techniques and exercises to reduce the horse's natural asymmetry: I may use In-hand exercises to prepare for ridden work or to complement the work under saddle. I find that working the horse laterally in-hand helps to improve relaxation, trust, confidence and obedience without the added stress of the rider's weight.
Similarly, I may use a combination of lunging and long lining to prepare the horse for ridden work, for improved suppleness in the advanced horse, for maintaining fitness, for rehabilitating after injury or for improving handler communication.
Pole work and gymnastic jumping exercises, where necessary, may also be used. These may be executed in-hand or under saddle to improve the horse's balance, rhythm, suppleness and strength.
"Mary is the finest trainer I've had in the 50 years I've been riding. She has an extraordinary ability to see even the smallest crookedness and imbalance in my position and my horse's movement and, when I correct properly, the improvement is obvious and immediate."
Rider Rebalancing & Weight Aids
Rider asymmetry is a contributing factor to back pathologies and poor performance in the horse. In addition, an unbalanced rider is unable to use subtle well-timed aids to communicate effectively with the horse.
I use slow motion footage to further analyse horse and rider correctness.
I am available for lessons and training sessions so do get in touch if you are interested in a private lesson or organising a workshop session at your yard or riding club.